Aluminium Welding Experts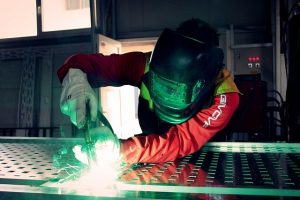 Aluminium welding is an area we specialise in, this welding process is very popular. We can provide you with Aluminium MIG welding. Aluminium Mig welding is not that difficult for us, as having many years of experience in this field, we fully understand the process and its requirements.
For instance, this process requires more heat than mild steel. There are two types of gases that are used in this procedure for welding aluminium, they are argon and helium. These two types of gases are used as both pure argon or pure helium and also in some cases, there can be various mixtures of both argon and helium.
MIG compared to TIG Welding
For more information on MIG & Tig Welding visit our dedicated page.
MIG welding holds a  big advantage over TIG welding because the wire feed acts not only as an electrode but also as an actual filler.
So if you require Aluminium welders you really need to look at how much they know about aluminium Mig welding and do they have the experience. There are many aluminium welding services in Birmingham and most likely many aluminium welders near you. But we have a vast amount of experience in this.
Aluminium with MIG elding is best for thinner gauges of aluminium sheets, this is because of the amount of heat that is required. From our experience when choosing a shielding gas we suggest argon is the best, as mentioned you can use Helium but we prefer Argon for the MIG welding aluminium process.
The welder must choose a welding wire or rod that has an alloy as similar to that of the workpieces as possible to create a quality weld. This really comes down to the welder. We fully evaluate what is required and choose the right aluminium rods. Aluminium welding rods are commonly used to repair Aluminium, Al-alloys, Zinc, Pot metals, Die-cast and Kirksite dies.
Steel Welding
Steel is the easiest metal to weld, this is why it is a very popular form of metal when it comes to welding. If you have something that needs welding, look no further we are can provide you with the welding service anywhere you may be, we have had enquiries nationally and overseas.
This really is because we provide a professional service. As mentioned there are many welding services in Birmingham and most likely many welding services in the area of the West Midlands. We can assure you we can provide you with a service that we take pride in.
Our other services:
So whatever your specific need is we are always here to listen and support you and look and deliver.